News of the vineyard
The laureates of the 109th Tastevinage revealed
31/03/2022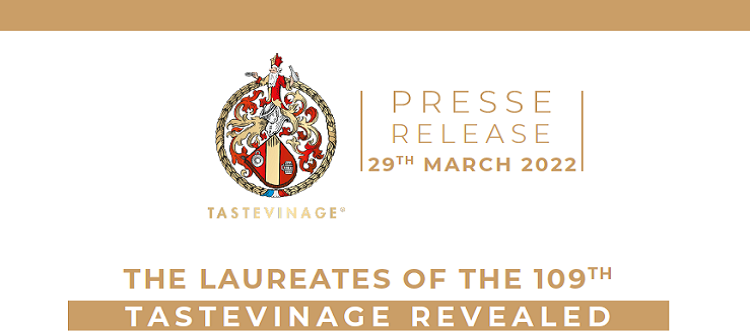 The 109th Tastevinage took place at the Château du Clos de Vougeot on Friday March 25th 2022. The Guest of Honour was Daniel Picouly, whose latest book "Les Larmes du Vin", published by Albin Michel in January this year, features the Confrerie des Chevaliers du Tastevin and the author's own admission into the Order.
In this unique site synonymous with Bourgogne's historic and viticultural heritage, the palates of over a hundred tasting-judges – winegrowers, sommeliers, restaurateurs, merchants, buyers, journalists and influencers – sampled 442 vins de Bourgogne in a blind tasting. Following recent changes to the rules relating to Covid-19, the tables in the Great Cistercian Cellar were re-arranged to create a more convivial setting for the judges.
Out of all the wines presented, 147 received the tastevinage Seal of Approval, the equivalent of 33.26%.
The 147 laureates include 50 regional appellations, 61 village appellations, 33 Premier Crus and 3 Grand Crus.
These results illustrate and highlight the essential role of the Confrerie des Chevaliers du Tastevin: to enable consumers from outside the region to discover the full range of Burgundy's great wines, irrespective of their level of appellation.
See all the results online : www.tastevinage.fr
Coming soon :
The 110th edition of the tastevnage Friday september 9th 2022
The 6th tastevinage majors award ceremony Thursday november 17th 2022
For any additional information :
Agence vingt-quatre: Karen PATOUILLET - 06 29 90 94 93 - karen@vingt-quatre.fr
Created in 1950 by the Confrérie des Chevaliers du Tastevin, the Tastevinage seal of approval singles out the wines most authentically representative of the Bourgogne winegrowing region from Chablis to the Beaujolais crus.

Made up of a jury of experts from the wine industry (growers, merchants, brokers, sommeliers, oenologists, distributors and journalists) the Tastevinage consists of a rigorous examination where each wine is tasted 'blind' in order to ensure the judge's impartiality.

At the end of this selection process, the Tastevinage seal of approval is awarded to those wines that most accurately define the character of their appellation and vintage, thus giving the consumer a guarantee of authenticity and pleasure.