Press releases
QANOPEE: Investing in the future of Bourgogne wines
26/01/2023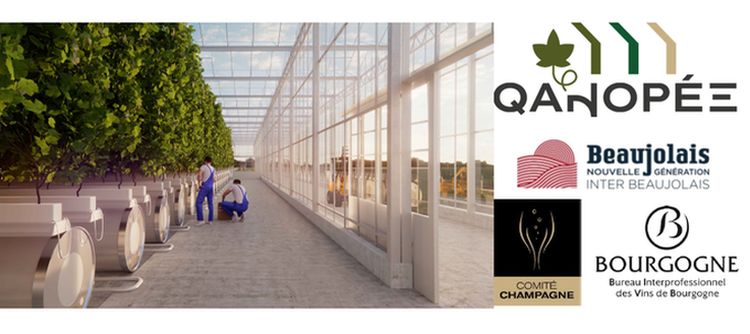 QANOPEE (QuArt NOrd-Est PrÉmultiplication collective: collective vineyard pre-multiplication tool for the North East of France) is an innovative new project for Bourgogne wines. Indeed, the quest for high-quality vines in perfect health has led the three wine boards from the Beaujolais, Champagne, and Bourgogne regions to invest in this project for the production of plant material, grafts, and rootstocks in sealed, bioclimatic greenhouses.
This type of greenhouse is new for the production of vine plants. QANOPEE is the first investment of this type made by such wine boards. It will be located in the Champagne region, in the OGER business park in the municipality of Blancs-Coteaux, just south of Epernay.
The project is being driven by a non-profit including the three regional wine boards mentioned above, chaired by Thiébault Huber, President of the Confederation of Appellations and Winegrowers of Bourgogne (CAVB).
The three wine boards have ensured the financing for the project, which also benefits from a grant from the EU's FEADER fund, and further financial support from local authorities in the regions.
Public and private regional bodies are increasingly supporting such projects and the Bourgogne Wine Board (BIVB) is delighted to be part of this program, which underscores their shared aims and ambitions.
The construction phase will last for round 18 months and the first plants will be delivered in 2027.
QANOPEE in figures
Construction
• 4,500m² of closed, insect-proof greenhouses
• A 900m² building for laboratory and office space that meets environmental RE2020 standards, with construction provisions that meet the former HQE standard for tertiary buildings, in particular with respect to autonomous energy production through the use of solar panels.
Financing
• Global construction cost: 8.3 M€
• FEADER grant: 4.8 M€
• Local grants (national counterparts): 1.2 M€
• Contributions from the wine boards: 0.8 M€
• QANOPEE loan: 1.4 M€