Press releases
Grands Jours de Bourgogne 2024 : an event boosted by two gorgeous vintages!
20/11/2023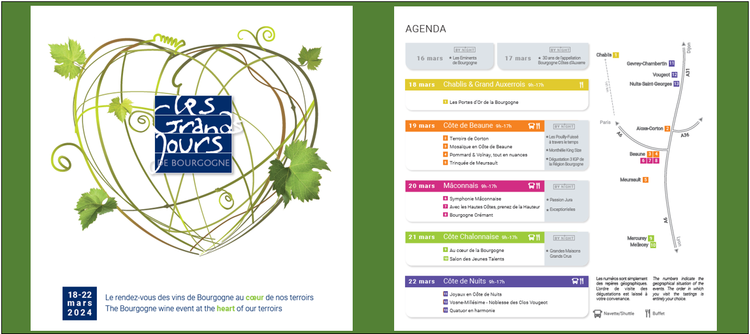 Winegrowers and wine merchants are preparing to welcome wine professionals and journalists from all over the world, for the 17th Grands Jours de Bourgogne - the trade show that takes place in the heart of the vineyards - from March 18 to 22, 2024.
Every two years, this unique event brings together people from nearly 50 different countries to immerse themselves in Bourgogne's terroirs. The event is all about sharing, conviviality and discovery, but also about doing business.
Wine sellers, sommeliers, restaurateurs, importers, distributors and journalists will all be there to learn about the latest vintages from Bourgognes's 84 appellations. Over five exceptional days, punctuated by 13 tastings in 10 different venues, 1,000 exhibitors will present 6,000 wines.
Visitors will travel the length and breadth of Bourgogne, from Chablis/Grand Auxerrois (on Monday) to the Côte de Beaune (on Tuesday), via the Mâconnais (on Wednesday), the Côte Chalonnaise (on Thursday), finishing with the Côte de Nuits (on Friday).
Everyone is looking forward to this event, which will be bolstered by the two most recent harvests, which were generous in terms of both volume and quality!
How to register and prepare for your visit
The www.grands-jours-bourgogne.com website (in French and English) works equally well on mobile phones and PCs, and provides the answers to all your questions!
➢ An invitation will be sent to the press and wine buyers at the beginning of December.
➢ A special space for visitors will be available from early December to pre-register for tastings (open until March 12).
Free shuttles: making travel easier and limiting the ecological impact
Visitor badges
Visitors can print their badges on site at contactless terminals installed at the entrance to each show. To save time and for ease of entry to events, visitors are nevertheless invited to print their badges in advance.
The badges also allow visitors to easily pass on their contact details thanks to a personalised QR Code on the front of the badge. When an exhibitor flashes the code, he or she will receive the visitor's digital business card.
An app for keeping tasting notes
For the duration of the show, the app allows visitors to:
- Directly access exhibitor information (contact details, the wines on show etc) by scanning the QR Code on the stand.
- Record tasting notes (vocally or by typing)
- Store photos and contact details of the estates and wineries they've encountered etc
Downloaded in advance, the app can be used without a connection.
The Roadbook: your guide for the week
This bilingual pocket sized booklet will be available at the entrance to events and can be downloaded from the website. It contains all the information you will need for the week.
Journalists: a dedicated press room and a meeting you won't want to miss…
BIVB press officers will be on hand throughout the week to answer your questions, arrange meetings with vineyard managers provide information on the organi s ation of the week etc
Press conference on Wednesday, March 20
Raphaël Dubois President of the Grands Jours de Bourgogne association with Laurent Delaunay and François Labet presidents of the BIVB, are delighted to invite you to a press conference to discuss the latest news on Bourgogne wines.
A look back on 2022, a year of post Covid reunions
For its first post Covid event Grands Jours de Bourgogne 2022 symbolised the joy of getting together again. Visitors and exhibitors turned out in force, despite the anticipated low volumes of the 2021 vintage.
Event partners: a valuable source of support
The Bourgogne Wine Board (the Région Bourgogne Franc he Comté the Conseils D épartementaux de Côte d'Or, Saône et Loire and Yonne, Crédit Mutuel, Verreries de Bourgogne and André le Groupe a new partner) have joined forces with this international project and are delighted to be able to support this 17th tra de show once again.
#grandsjoursdebourgogne @vinsdebourgogne
www.grandsjours bourgogne.com
Press contact
Cécile Mathiaud – Head of PR at the BIVB
+33 (0)6 08 56 85 56 – cecile.mathiaud@bivb.com