News of the vineyard
Discover the winners of the 33rd Young Trophies
22/11/2021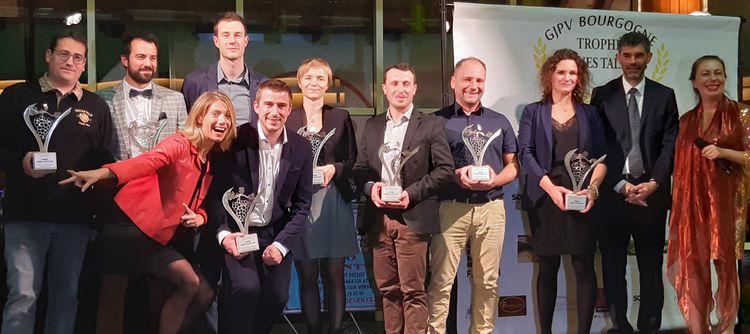 On the evening of Friday 19 November, the association awarded its seven trophies to as many young winemakers.
A jury of 60 wine professionals selected the participating wineries for this 33rd edition of the Young Talent Awards. Each candidate presented 3 different appellations from their estate in the 2019 vintage.
The winners are chosen from among 21 nominees, by the 2 Patrons of the edition - for the excellence of their 3 wines.
The awards evening was sponsored by Mrs Margot DUCANCEL, French Instagramer and founder of the "Rouge aux Lèvres" club, and Mr Olivier BORNEUF, Founder of the French wine magazine "La Tulipe Rouge", and of the academy of wines and spirits.
And the winners are.........
Wines from the Mâconnais
Franz-Ludwig GONDARD from Domaine GONDARD-PERRIN
@ : mylène.gondard@gmail.com
For his Viré-Clessé « Tradition », Viré-Clessé, Le Belvédère, and Viré-Clessé, Le Clos de Chapotin
Wines from the Côte Chalonnaise
Quentin JOUSSIER, Domaine de l'Evêché
@ : contact@joussier.com
For his Bourgogne Côte Chalonnaise « édition limitée », Bourgogne Côte Chalonnaise, Revillier, and Mercurey, Les Murgers

Wines from the Côte de Beaune
Chloé BAILLARD-CHEVALIER from Domaine CHEVALIER
@ : contact@domaine-chevalier.fr
For her Bourgogne Aligoté, Ladoix - Chardonnay, and Ladoix - Pinot noir
Wines from the Côte de Nuits
Benoît CHEVALLIER from Domaine Benoît CHEVALLIER
@ : contact@benoitchevallier.com
For his Bourgogne, En Lutenière, Vosne-Romanée, and Nuits-Saint-Georges Premier Cru, Aux Boudots
Wines from the Chablisien
Pierrick LAROCHE from Domaine DES HATES
@ : pierrick@domainedeshates.fr
For his Petit Chablis, Chablis, Les Châtillons, and Chablis Premier Cru, Les Butteaux
Wines from the Grand Auxerrois
Bastien & Carole MATHIAS from Domaine MATHIAS
@ : mail@domainealainmathias.com
For their Bourgogne Epineuil, Bourgogne Epineuil, Côte de Grisey, and Bourgogne Tonnerre, Côte de Grise
Wines from the Beaujolais
Jean-Louis POULARD from Domaine POULARD
@ : domainepoulard@neuf.fr
For his Morgon « Signature », Morgon « Dame Noire », and Chiroubles « Petites Côtes »