News of the vineyard
Discover the Laureates: Trophées Jeunes Talents 2023
19/11/2023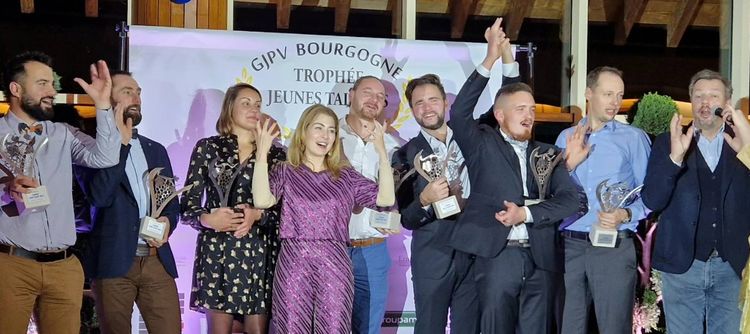 First event of the Hospices de Beaune Wine Auction weekend, The Young Professionals of the Vine and Wine Group awarded its Young Talents 2023!
On the evening of Friday? November 17, during the Young Talents Dinner, the association has awarded seven Trophies to as many young winemakers, aged less than 40 years or established for less than 5 years.
Beforehand, a jury of 60 wine professionals, then the patrons of this 35th edition: Marina GIUBERTI, head of cellar, sommelier and manager of the 2 DIVVINO shops in Paris, and Olivier POELS, Deputy Editor-in-Chief of La Revue du Vins de France, and food columnist on the national radio Europe 1, made a blind selection of the participating estates in this 35th edition of the Trophées Jeunes Talents.
Each candidate presented 3 different appellations from their estate in the 2021 vintage.
The seven winners are:
• Matthieu Dangin, Domaine Bruno DANGIN for the Grand Auxerrois Trophy
• Pierrick Laroche, Domaine DES HATES for the Chablis Trophy
• Lyse Chezeaux, Domaine Jérôme CHEZEAUX for the Côte de Nuits Trophy
• Guillaume Nudant, Domaine NUDANT for the Côte de Beaune Trophy
• Rémi Dury, Domaine Jacques DURY for the Côte Chalonnaise Trophy
• Maxime Dutron, Château VITALLIS for the Mâconnais Trophy
• Elie Gauthier, Domaine Laurent GAUTHIER for the Beaujolais Trophy
Created in 1959, the GJPV is an association bringing together young winegrowers, with the aim of creating professional exchanges and communicating about the new generation. It has some 150 members throughout Bourgogne.
Contact: Nathalie BERNARD,
President du Groupe des Jeunes Professionnels de la Vigne
bourgogne.gjpv@gmail.com