News of the vineyard
Discover the Laureates from Trophées Jeunes Talents 2022
21/11/2022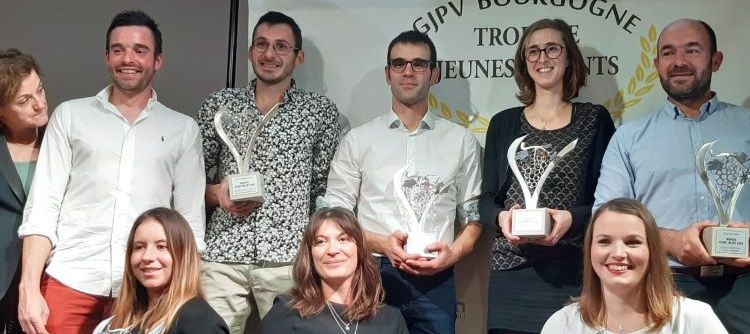 First event of the Hospices de Beaune Wine Auction weekend, The Young Professionals of the Vine and Wine Group awarded its Young Talents 2022!
On the evening of Friday 18 November, during the Young Talents Dinner, the association has awarded seven Trophies to as many young winemakers, aged less than 40 years or established for less than 5 years.
Beforehand, a jury of 60 wine professionals, then the patrons of this 34th edition: Rachelle LEMOINE, French journalist specialized in wines, and Fabien ESPANA, Creator of the restaurants "Le Soufflot", "Au fil du Zinc" and "Chablis Wine Not", have selected the wineries participating in this 34th edition of the Young Talents Trophies. Each candidate presented 3 different appellations from their estate in the 2020 vintage.
The seven winners are:
• Clémence VERRET, from Domaine VERRET in Saint-Bris-le-Vineux for the Grand Auxerrois Trophy
• Eléonore MOREAU, from Domaine des Pérégrins in Poilly-sur-Serein for the Chablisien Trophy
• François AMBROISE, from Maison AMBROISE Frère & Soeur in Premeaux-Prissey for the Côte de Nuits Trophy
• Baptiste GUYOT, from Domaine Baptiste GUYOT in Beaune for the Côte de Beaune Trophy
• Charles-Antoine DANJEAN, from Domaine DANJEAN-BERTHOUX in Jambles for the Côte Chalonnaise Trophy
• Jean-Jacques FERAL, from Domaine de MONTBARBON in Viré for the Mâconnais Trophy
• Charlotte PERRACHON, from Domaine BONNET in La Chapelle-de-Guinchay for the Beaujolais Trophy
Press contact:
Nathalie BERNARD, President
Groupe des Jeunes Professionnels de la Vigne: bourgogne.gjpv@gmail.com