Press releases
Bourgogne Wines reveals their nine new international Official Ambassadors !
29/06/2023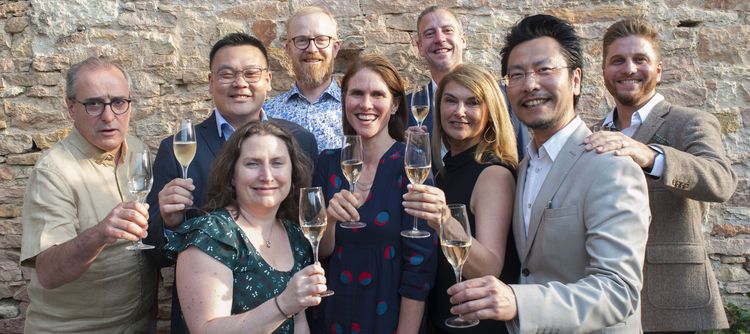 From June 12 to 17, the Bourgogne Wine Board (welcomed 10 candidates from 10 countries to a new accreditation session for the coveted title of "Bourgogne Wine Official Ambassador". Nine out of the ten achieved the Holy Grail in the final phase. With a network of 67 Official Ambassadors in 21 countries, including France, the BIVB is proud to reveal who these experts are, how they are recruited and what role they perform...
The nine successful specialists, including a Master of Wine, were selected from over 100 candidates. They came from Europe, Asia and the Americas and toured Bourgogne from north to south over five days. The aim was to deepen their knowledge and discover the variety of Bourgogne wines and terroirs through a study of the landscape, visits to wine estates and négociants meetings with wine professionals and themed tastings.
This week of intensive training culminated in a demanding final exam, consisting of a blind tasting followed by a commentated tasting, to earn the title of "Official Bourgogne Wines Ambassador".
Who are the Bourgogne Wine Official Ambassadors?
The prestigious community of Bourgogne Wine Official Ambassadors is a big family of 67 people (21 ambassadors on the American continent, 24 in Europe and 22 in Asia-Pacific).
Together, they are the representatives of Bourgogne in their respective markets, delivering training courses on Bourgogne wines on their own behalf, for the BIVB or for companies who contact them.
How are they chosen?
The accreditation process is a demanding one. Only the very best are awarded the diploma at the end of the selection process.
· 1st stage: Candidates are selected on the basis of a portfolio and the results of a general knowledge quiz on Bourgogne wines.
· 2nd stage: This involves a written exam after an online course to deepen the candidates' knowledge of appellations, terroir and more.
This teaching phase lasts around three months.
· 3rd stage: Candidates selected after the examination are invited to Bourgogne for a week. Emphasis is placed on tastings, meetings with winegrowers and wine merchants, and learning about food and wine pairings.
Candidates must then pass a final tasting exam to be admitted to the community of Bourgogne Wine Official Ambassadors.
Contract with BIVB
The successful candidates sign a three-year, renewable contract with the BIVB. They undertake to run several training courses a year for wine professionals. The number of courses depends on the market, ranging from five for the biggest markets to two for emerging markets.
Who do they train and how?
· They train professionals (sommeliers, wine merchants, importers, etc.), aspiring professionals (students at hotel schools, WSET - Wine & Spirit Education Trust - centres, or those aiming for certification from the Court of Master Sommeliers) and wine enthusiasts.
· They provide master classes, themed tastings and broadcast the programme Rendez-vous avec les vins de Bourgogne, produced by the BIVB. They can also organise study trips in the region. They are very active on social media, promoting the full range of Bourgogne wines. Finally, they are sometimes called upon by Bourgogne wine producers to give an insight into their markets.
· They teach a variety of subjects.
These range from a simple introduction to the key concepts of Bourgogne wines to the most advanced master classes on specific concepts, such as the geology of Bourgogne wines.
The nine new Bourgogne Wine Official Ambassadors:
• Monica MARIN - United States
• Maxime DUBOIS - Vietnam
• René LANGDAHL JORGENSEN - Denmark
• Kenn CHING - Singapore and China
• Sylvain ELIÈS - France
• Jacky BLISSON MW - Quebec
• Laura KENT - United Kingdom
• Paulo BRAMMER - Brazil
• Paul Peng WANG - Taiwan
Press contact:
Cécile Mathiaud – Head of Media Relations at the BIVB
Tel. + 33 (0)3 80 25 95 76 – Cell +33 (0)6 08 56 85 56 - cecile.mathiaud@bivb.com