Business press releases
Change of owners at Albert Sounit
17/01/2023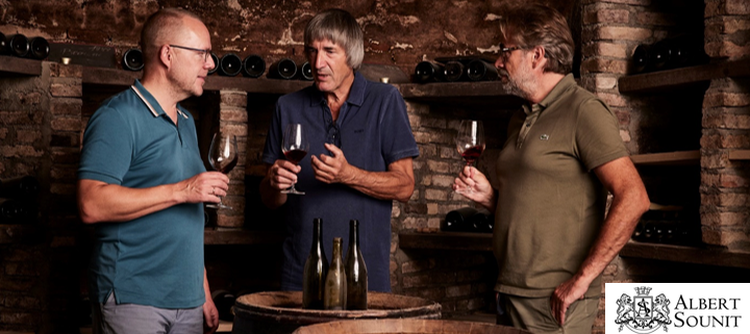 Albert Sounit in Rully was created in 1945. It's a Danish property since 1993 with Knud Kjellerup as like majority shareholder.
The company Albert Sounit has grown a lot over the 30 past years, thanks to the acquisition of Domaine Bernollin in Jully les Buxy (in 2005) and of the buildings in Rully.
In September 2022, after 3 years of transition, Søren Nørbjerg, purchased the majority of the shares with others Danish investors. He becomes the new main shareholder.
The estate is farming a 16 Ha vineyard and buys approximately 10 Ha of grapes. The estate is aiming at becoming organic certified in the coming years.
All the grapes are vinified and aged in the cuverie in Jully les Buxy. The winery has been enlarged last year so as to increase the quality of the vinification process.
The strength of the company is to produce both Crémant de Bourgogne and still wines, which makes it unique!
Tasting:
Monday to Friday, 8:30 am to 4:00 pm, only by appointment
Crémant de Bourgogne, red and white Burgundy, Montagny 1er Cru, Mercurey village and Premier Cru, Rully village and Premier Cru
A new tasting Room (currently under restoration) will offer a shop area where all wines are shown and available for tasting and sale.
Albert Sounit - 5, Place du Champ de Foire – 71150 Rully
Tél : 03 85 87 20 71 - info@albert-sounit.fr - www.albert-sounit.fr