Press releases
Beaune: An eco-responsible architectural feat
28/09/2022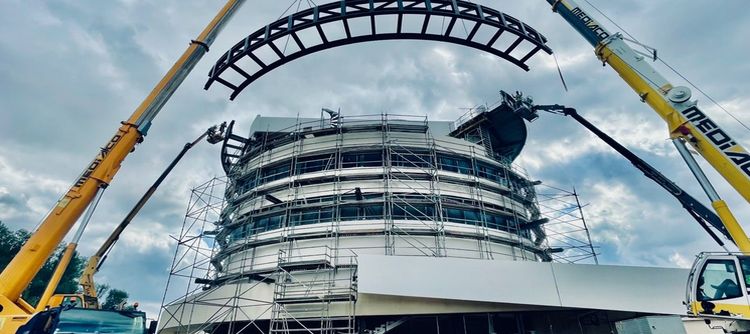 BEAUNE: 90% PROGRESS OF THE WORK
This September, the construction site of the Cité des Climats et vins de Bourgogne is in full swing with the end of the structural works, the continuation of the secondary trades and the installation of the tendril with its key stage, the installation of the "suspension" bridge. The bridge, designed by architect Emmanuelle Andreani of Siz'Ix, is a high-precision structure designed to provide access to the panoramic terrace. The Rougeot Group has achieved a real technical feat by installing a 20-ton self-supporting metal beam at a height of 20 meters, without any intermediate support.
At the same time, the scenographic agency Alice dans les Villes and its teams are refining the multimedia content and the layout of the scenography of the immersive and sensory tour of 1,100 m². This will plunge future visitors into the world of Bourgogne wines, with a special focus on the Climats du Vignoble de Bourgogne, a UNESCO World Heritage site.
A SUSTAINABLE APPROACH TO TOURISM
The city of Beaune, responsable for the Cité des Climats et vins de Bourgogne in Beaune, has sought to develop sustainable tourism with the construction of an environmentally friendly building, at the heart of the Parc de la Chartreuse.
This architectural jewel, standing 24 metres high, sets an example with its eco-friendly construction:
Choice of bio-sourced materials, with the use of hemp concrete for the construction of wooden-framed façades. This natural plant-based insulation, made in France and supplied in bulk (to avoid the use of plastic), will provide good energy performance, and improved ease of use, while reducing the environmental impact of the building.
Use of local geo-sourced materials such as Comblanchien stone for the base, earth from Mont Saint-Vincent for the interior plaster, as well as lime for the exterior plaster and insulation binder. The Cité in Beaune is the tallest building in France that incorporates this natural insulation technique.
Production of renewable energy and system efficiency, with the installation of photovoltaic panels and an energy recovery heat pump with dual-flow VMC, coupled with strong energy performance commitments from the Consortium in charge of the construction (7-year energy performance contract).
Permeable space with integrated recovery and eco-management of rainwater
At the heart of the landscaped park with nearly 500 newly planted trees, and around a hundred vines planted atop a scenographic plateau.
ENVIRONMENTALLY RESPONSIBLE LABELS
The project has been awarded several labels for its commitment to the environment:
Label E+C-® Positive Energy (E3) and Carbon Reduction Label (C2)
This label certifies both the energy performance of the building and its level of greenhouse gas emissions.
Renewable energy production > 50 % / Level C2 : Reduced carbon footprint on energy and materials
Bio-sourced Building Label
This label certifies that a significant proportion of plant or animal biomass has been used in the construction.
Level 2: Bio-sourced materials > 36 kg/m² of flooring. Bio-sourced building products from more than two different categories.
Contact : Chloé Butet - +33 (0)6 49 43 44 39 - chloe.butet@citeclimatsvins.com