News
Cave de Prestige : The new ambassadors are announced
28/06/2023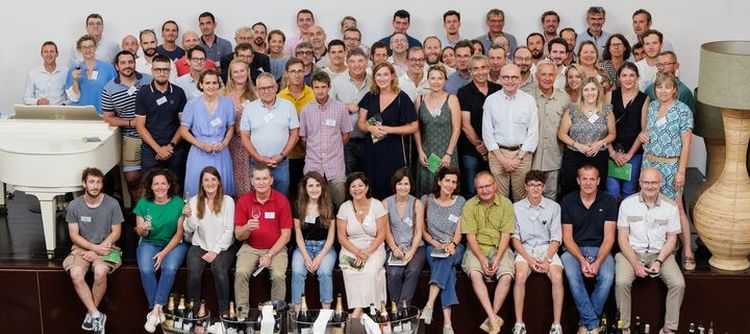 The 52nd awards ceremony for the Bourgogne Wine Board's (BIVB) Cave de Prestige took place on Tuesday, June 20. BIVB presidents François Labet and Laurent Delaunay, were delighted to congratulate the 97 Cellars, Maisons and Domaines selected for the 2023 list.
Among the winners were some familiar names, as well as 48 newcomers, appearing for the first time or making their return. In total, 168 wines were awarded the famous label, representing 19% of the wines submitted.
The Cave de Prestige has been an annual industry event for more than 50 years! The selection is a true mark of quality celebrating the excellence and diversity of Bourgogne wines. Its standards are rigorous: of the 884 wines entered, only 19%, or 168 wines, were awarded the precious label.
Wines from the Cave de Prestige are served at every workshop or event organised by the BIVB in France and abroad (VIP receptions, press trips, wine tasting courses at the Ecole des Vins de Bourgogne, training courses for those in the business, gastronomic evenings etc). The wines are true ambassadors for the next 12 months, bearing the official label of the selection.
François Labet, President of the BIVB, opened the evening by greeting his colleagues: "I'm so proud of these wines - we are celebrating your work!" He went on to say: "It's a fine selection, bearing in mind that each winning vintage must pass the strict judgement of three juries! These are exacting standards that meet the expectations and requirements of our market partners and the wine connoisseurs, to whom we owe an irreproachable level of quality."
Some 48 new names have been honoured for the first time, or are returning to the selection after an absence of one or more years. This reflects the dynamism of Bourgogne's wine-growing industry, which is continually striving to improve the quality of Bourgogne wines.
More than 15,000 bottles will be ordered to support the profession's promotional and training activities in 2023/2024.
Download the list of awarded producers : HERE