Discover the latest video: "Bourgogne, a land of emotions", an immersion into the soul of the Bourgogne winegrowing region.
This two-minute film in English allows you to share in the unique conviviality offered by Bourgogne wines. Immerse yourself in the heart of the region to explore breathtaking landscapes, witness the work that goes on in the vineyards, and experience some wonderful wine celebrations, all set to a dynamic musical backdrop. This film will stir your senses, but watch out – it's contagious!
An essential guide for discovering the secrets of the winemakers
The guide "En route vers les Bourgogne" reveals the quality and diversity of the wine-related tourism on offer in the region. It facilitates searches to help you organize your trip to the Bourgogne winegrowing region with a tailor-made program via the six tourism trails that criss-cross the vineyards.
The guide in figures
346 estates, wine producers and cooperative wineries who all adhere to the "De Vignes en Caves" welcome charter
98 wine-related events for 2017
1 map of the Bourgogne winegrowing region showing all its must-visit sites. On the back, the map offers mini maps of each wine trail.
Published in English and French
917 distribution points across the Bourgogne, Rhône-Alpes, and Jura regions. The guide can be found in tourist offices, regional and departmental tourist bureaus, hotels, campsites, gîtes, motorway information areas, and the airports and railway stations in Lyon.
Download the bilingual and free guide "En route vers les Bourgognes"
2 labels to ensure a successful trip
Located just two hours south of Paris and an hour north of Lyon, the Bourgogne winegrowing region is perfectly located to welcome visitors. Its winemakers, négociants, and cooperatives are keen to offer you the warmest of welcomes, as is the tradition in this region.
Two tourism labels are there to guarantee you some wonderful moments of escape and discovery in the Bourgogne region. The De Vignes en Caves label is sported by almost 350 producers ready to invite you in to their wineries. And the Vignobles & Découvertes badge brings together more than 600 different wine-related tourism activities across the six territories in the Bourgogne winegrowing region.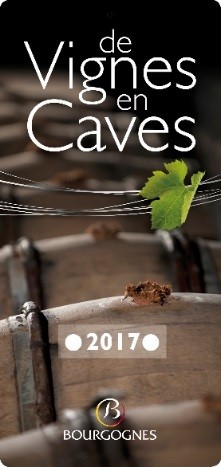 With a rich history and culture closely related to vines and wine, the region has always been a welcoming place and one that focuses on sharing. Between winegrowing and heritage, gastronomy and a strong festive tradition, the men and women of the Bourgogne region invite you to a deliciously unexpected voyage of discovery!