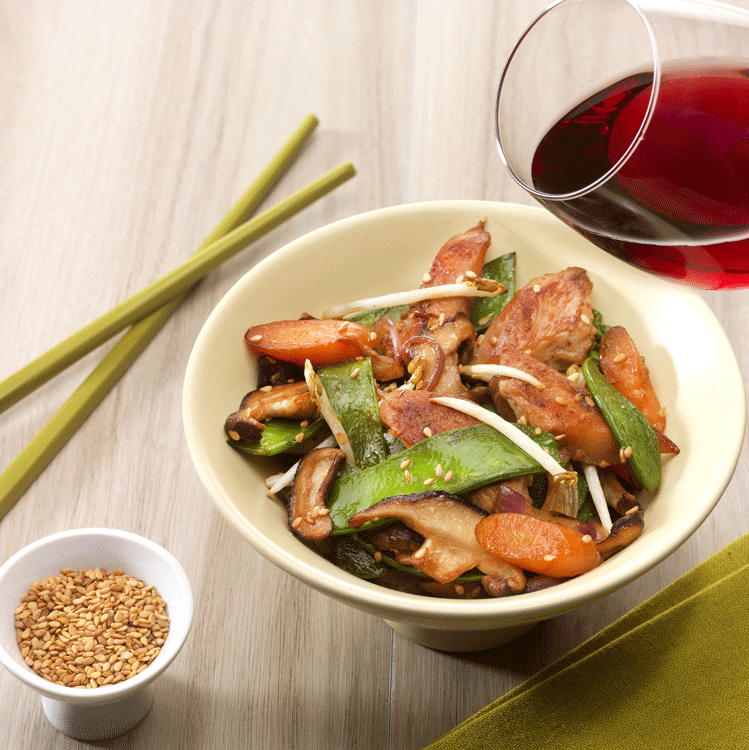 1

Peel and chop the vegetables and slice the chicken breasts.

2

Heat the wok and add the groundnut oil. Quickly stir-fry the vegetables for five minutes, stirring constantly. Place the cooked vegetables in a dish and then brown the chicken in t

3

Deglaze the wok with the crushed garlic and liquid honey. Return the vegetables to the pan with the soy sauce and four or five gratings of the fresh ginger. Stir-fry over a high he

4

At the end of the cooking time, add the sesame and sesame oil.




It's ready!
from the chef
Wine pairings
The secret to combining this recipe with a Coteaux Bourguignons red is the soy sauce. Aged in barrels, it brings an oaky touch to the dish, which rounds out the tannins in the red wine. The crunch of the vegetables mingles perfectly with the freshness of a young wine, while the ginger gives a touch of zing.
Tasting tip