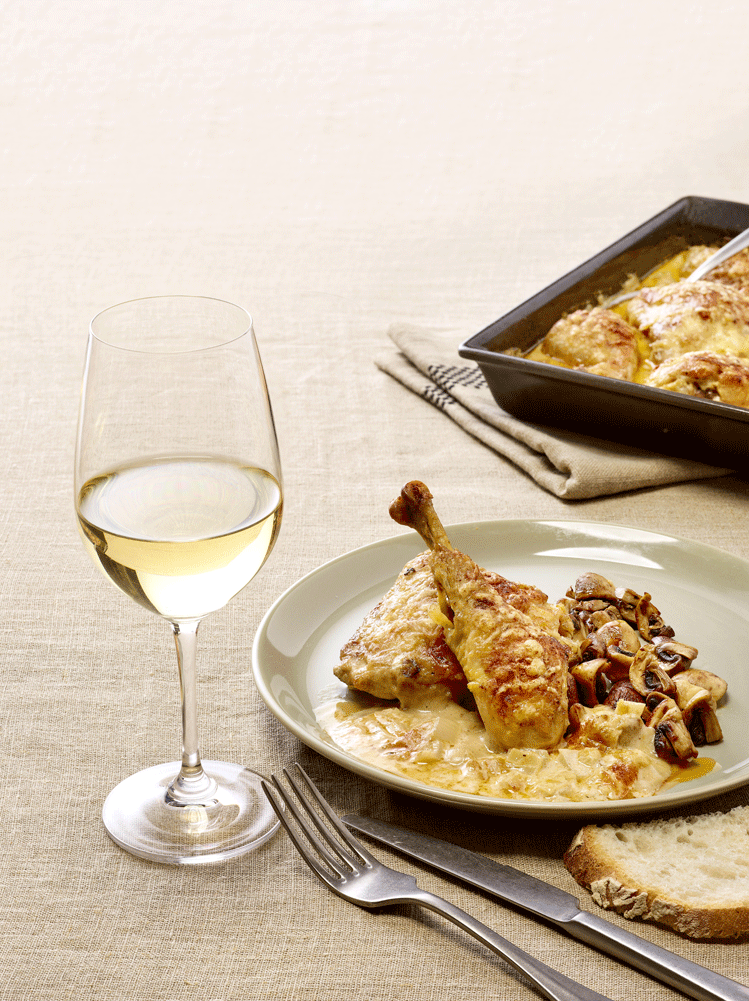 1

Chop the chicken into pieces.

2

Brown in a frying pan in the olive oil.

3

Remove to a baking dish.

4

Sprinkle with the grated Comté and garlic.

5

Sweat the shallot in a frying pan.

6

Add the white wine and bring to the boil.

7

Add the salt, pepper, paprika; off the heat stir in the crème fraîche and mustard.

8

Pour the mixture over the chicken and cheese.

9

Sprinkle with breadcrumbs.

10

Put in the oven at 225°C (gas mark 7 1/2 ) for around 45 minutes, or until brown.




It's ready!
This tender chicken, served in a creamy sauce and topped with melted cheese, naturally calls for a white wine accompaniment. The moist meat with its white wine and cream sauce might clash with the tannic structure of a red wine, and the visual aspect would balance better with golden color of a Bourgogne white.
Discover it BOURGOGNE HAUTES-CÔTES DE NUITS
"I would go for one of a selection of four Bourgogne whites. A Bourgogne Hautes Côtes de Nuits, from a nicely mature vintage; a Viré-Clessé with a touch of sweetness; a Saint-Aubin Premier Cru, whose smoothness and fattiness would envelop the texture of the chicken; or a Corton-Charlemagne Grand Cru, a wine that, despite being full, still retains a freshness that would make for a magical culinary combination." Michel Smolarek – Best Sommelier in Bourgogne 1987
Tasting tip
Discover the aromas of BOURGOGNE HAUTES-CÔTES DE NUITS