Press releases
Bourgogne Maps: the Bourgogne now mapped right down to the Régionale AOCs!
12/03/2020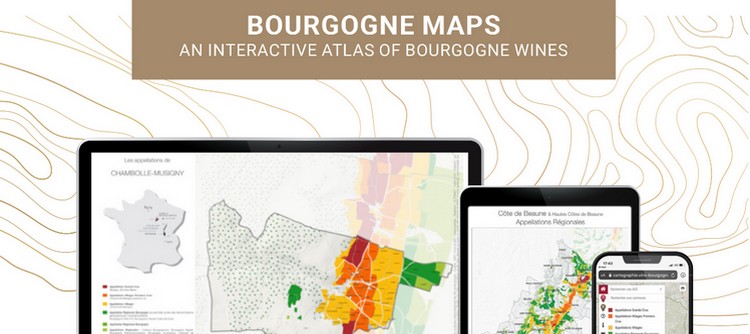 Take a fresh look at our interactive atlas of the 84 Bourgogne appellations with Bourgogne Maps, a very useful interactive cartography tool, launched by the Bourgogne Wine Borad.
It was created in response to industry demands and the widespread need for accurate mapping of all appellation segments. It offers several levels of reading and a range of different features that will naturally be of interest to wine professionals, and also journalists, tourists, and all lovers of Bourgogne wine.
Bourgogne Maps is an interactive atlas of Bourgogne wines and aims to map out entirely Bourgogne, plot by plot, from Régionale to Grands Crus appellations.
Other tools are available but these only focus on the Climats of Bourgogne. Bourgogne Maps now offers the industry more than 530 precise maps covering the production zones of the 84 appellations or AOCs of the Bourgogne region, across three segments: 7 Régionale AOCs, 44 Village AOCs, and 33 Grand Cru AOCs. It also details the 14 additional geographical denominations of the Bourgogne appellation and the 27 additional geographical denominations of the Mâcon appellation.
A user-friendly tool with multiple features
This new mapping tool was produced using land registry resources and with the help of the Institut National de l'Origine et de la Qualité (INAO), which published plot data of the 289 French AOCs, including those in Bourgogne, in 2018. The BIVB used this in-depth work to identify almost 300,000 individual plots. To ensure as much accuracy as possible, we also worked with the Organismes de Défense et de Gestion (ODG) management organizations, in particular the ODG Bourgogne and the Union des Producteurs de Vins de Mâcon (UPVM)...